Snack-time, on the move
These set-ups are quite common here in Delhi, but the camera was handy only during a trip to Manali.
A brass vessel with a rather generous bottom tilted at an over-acute angle and stayed by strings, and mounted on a stove.
Several pots of spices accompany the eye-catcher, and of course the whole setup is completely mobile. What does Mr Brahm Kumar vend? Spiced up lentils, embellished with onions and tomatoes, and garnished with coriander leaves - a rather filling snack for much needed 'interim relief'.
Happy snacking!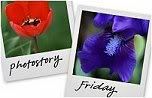 Hosted by Cecily and MamaGeek